There are few things in life that I love as thoroughly and completely as a song or album that gets its feelers through the chinks in my wall.
However...there is food...
I got into a discussion with a visiting friend about whether or not Denver has any good bands. I vehemently stuck up for my 'hood, and when I got home that night I typed as ferociously as possible a list of Denver bands that I adore. But why stop just at bands? Denver, and the whole Front Range sprawl, sometimes gets a reputation for outsourcing its entertainment if it's not involved with skiing.
But wow, we have some great places. So this post is going to pair some great Denver bands with some equally as addictive Denver eateries. I suggest you start taking my city seriously. Or I'll whack you with a ski pole. A sharpened one.
I can't think of anything as satisfying as the infinity that local band
Houses
creates both on stage and in the studio. Their energy channels so completely into relentless sparkling, swaying anthems for a late summer evening or early morning drive. Thoughtful, disarming, and unhurried in how they build songs into harmonic, crashing stories, Houses makes Denver proud.
We'll See the Sun- Houses
So what about those late summer nights when you are listening to golden songs like the one
above? When the sun starts dropping, and your skin feels like it's holding the rest of the heat of the day, there is nothing that is quite as refreshing to me as good flavorful heat found in authentic Mexican food.
Oddly enough, Denver has a street just littered with authentic taco carts and dives just bursting with carne asada, smothered burritos, and salsa so fresh the tomatoes ripen as you douse.
I'm no expert on Federal Boulevard taco joints since there are so many, but one that I have returned to several times during the summer is Tacos Y Salsas. A hole in the wall with the best salsa bar I've ever seen (it's like Christmas for people who want salsa options), there is no way you can break the bank here, but you're guaranteed to leave extremely full and happy. I recommend turning on some good music and exploring as many taquerias as you can possibly stomach.
Tacos y Salsas
910 S Federal Blvd
Denver, CO 80219
At a Bon Iver show this summer, I was running out of oxygen in the crowded venue and crunching ice in a desperate attempt to lower my core temperature. All I really wanted was to get to the main event. But then Nathaniel Rateliff and Joseph Pope, known as
The Wheel
, took the stage and started sketching out their cooling, deeply affecting folk rock. There's a mysterious pulse to their music, with Rateliff's moody and dark voice releasing a potent spell on the audience. And just like The National, they didn't have to strum out bright chords to send someone's heart floating. I was caught up, and immobilized by the subtle, enchanting plucking and weaving The Wheel did.
I recommend it.
Hanging Surrender- The Wheel
With such soul satisfying music like that, you need a stick to your ribs meal. No better place than
the
Rocky Mountain Diner/ Castle Cafe
. It's just like you would expect a Western diner to be like about 100 years ago. They have
saddles
instead of bar stools. Not to mention their extensive Bourbon collection and absolutely killer sandwiches. I haven't tried it (vegetarian), but I also have seen people go into genuine throes of ecstasy at trying their fried chicken.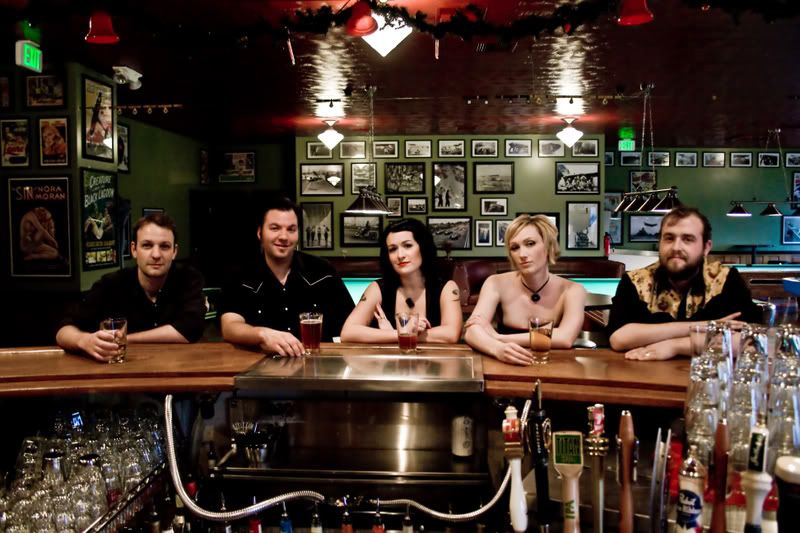 Lastly (for now) I want to focus on the alt-country set up,
The Hollyfelds
. It's not just because they gave me a free CD when I correctly and audibly responded to an Arrested Development reference they made on stage at The Mercury Cafe.
It's because sometimes after a bunch of hipster toe tapping, it makes me feel good to hear some classic country inspired hooks (twang included), all tied together with actual intelligence and impassioned sincerity. Even for people not so comfortable with the country vibe, I haven't seen someone who sees The Hollyfelds live and doesn't break out smiling and get totally involved with their plucky, fun performance. No wonder they swept the Westword Alt-Country category to firmly plant themselves, spurs dug in firmly, in the Denver music scene as a genre busting force to be clapped and danced to.
Here's a video of theirs from Denver's huge, rad
Underground Music Showcase
.
Since I saw them at
The Mercury Cafe
e first, I should write about this amazing little place. I
started going here for their Lindy Hop nights in the upstairs dance area, but quickly began punctuating my evening dances with stops in their downstairs cafe (which does slam poetry every week, too). With extensive vegetarian and vegan options, some great beers, and extremely conscientious food service practices, I always feel satisfied in my belly and my brain after indulging in their treats.
Check out their website. Their comforting motto, "Local, organic food is your birth right" is backed up by their practices, especially since they openly list their suppliers for diners to see. Pretty refreshing to see a place back up their trendy "green" claims.
I personally recommend any of their shockingly delicious vegan desserts.
So go out and explore your city! There are always things to do, events to see, and delicious ways to fuel yourself on the journey. Colorado is my playground; where's yours?